On July 12, 2017, Six Flags Magic Mountain threw perhaps the most extravagant grand-opening ceremony for a ride in company history. As the sun set over the Valencia, California, theme park, laser lights scythed through the sky, a booming soundtrack filled the air, fireworks exploded overhead, and confetti rained down like colorful drops from the heavens.
You'd be forgiven for thinking this breathtaking display must have been in honor of a new record-breaking roller coaster. After all, thrill machines are what Six Flags Magic Mountain—and its parent company—are best known for.
But, no.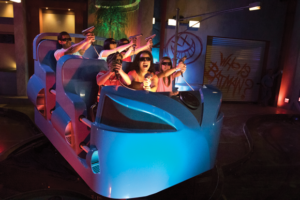 Instead, this cacophony of sound and light celebrated the debut of "Justice League: Battle for Metropolis," the first dark ride in Magic Mountain's history. The interactive, 4-D attraction marked a capstone of sorts for both Six Flags and the ride's creator, Sally Corporation, as it was the seventh and final version of "Battle for Metropolis" to open in Six Flags parks between 2015 and 2017. Along the way, this partnership between two long-standing companies turned the attractions industry on its ear by delivering to a regional audience an immersive experience typically reserved for destination parks.
"The collaboration is what made this project work as successfully as it has," says Sally Chairman and CEO John Wood. "It was intense at times, but extremely gratifying. There was a sense of trust between us that we'd do the right thing and achieve greatness if we could."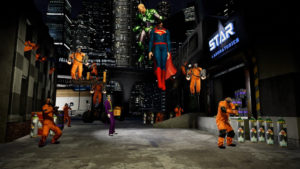 Without a version of "Justice League: Battle for Metropolis" rolling out this summer, that meant the parties involved in creating this landmark attraction finally had a moment to step off the treadmill, take a breath, and reflect on their achievement—all the twists and turns this story took, and what "Battle for Metropolis" could potentially mean for dark rides and regional parks in the future.
Continue with this article through the link below….
http://www.iaapa.org/news/funworld/funworld-magazine/feature—and-justice-for-all—june-2018