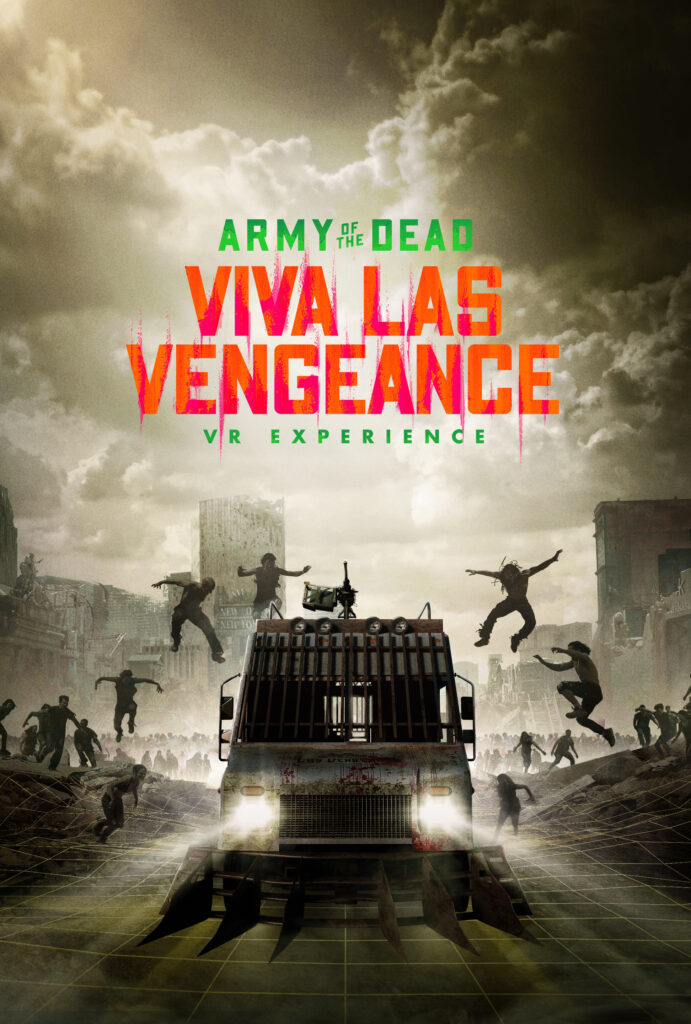 LOS ANGELES (May 26, 2021) – Sin City needs saving! Enter the Army of the Dead Immersive Virtual Reality Experience. Players will be able to join the crew of citizen soldiers, known as Las Vengeance, aboard the iconic taco truck from the film on a multiplayer rescue mission. Set several years before the events of the Netflix film Army of the Dead (released May 21), this highly immersive virtual reality experience takes fans through an action-packed battle against hordes of undead threats on the overrun Las Vegas Strip.

"The experience combines state of the art VR with fan-favorite elements of the movie, that will make for an unforgettable tour," said Zack Snyder, Netflix's Army of the Dead director. "Get ready to roll the dice with the undead as you battle your way through hordes of the zombies across a Vegas wasteland."

Details: 
Mobile location-based VR experience starts its 10+ month US tour this July, kicking off in Los Angeles and New York City and traveling to: Atlanta, Boston, Chicago, Dallas, Houston, Las Vegas, Miami, Minneapolis, Orlando, Philadelphia, Phoenix, San Diego, San Francisco, Seattle, and Washington, D.C.
Up to 6 players team up on a rescue mission to save survivors trapped in zombie-infested Las Vegas as part of the Las Vengeance rescue mission crew.
Each truck allows players to see, hear, and feel the action at hand with high-end virtual reality headsets and state-of-the-art motion platforms bringing the action to life.
A waiting list opens on May 26 granting early access to those who sign up, and tickets officially go on sale on June 3. Pricing starts at $24, with a variety of packages available.
Upon entry, guests will be briefed on their mission by the movie's fearless mercenary character Maria Cruz – played by Ana de la Reguera. They will then enter a converted taco truck, the weaponized zombie killing machine from the film, and step into Army of the Dead's terrifying alternate reality.

"Army of the Dead is one of the most hotly anticipated releases of the year and now fans have the chance to climb aboard the taco truck to experience the world for themselves," said Greg Lombardo, Head of Experiences at Netflix. "We are thrilled to partner with the Snyders, Pure Imagination Studios and Fever to bring Army of the Dead across the country this summer in a way like never before."
During their journey, fans can expect:
An epic 30 minute action-packed mission through Sin City
State-of-the-art virtual reality
Mind-blowing sensory motion platforms and sound effects
Exclusive merchandise and shareable social content
The experience is designed with unique consideration for COVID-19 compliance and safety standards to ensure the best possible experience for guests. Extensive hygiene and social distancing regulations in accordance with local state mandates will be in effect, in addition to the use of Cleanbox, a premium, eco-friendly, smart hygiene device which performs UVC surface decontamination for frequently used products.

The Army of the Dead Immersive VR Experience was produced by Netflix in creative collaboration with Pure Imagination, and in partnership with Fever. Pure Imagination Studios is the multi award-winning independent studio that combines proprietary technology with groundbreaking storytelling to bring the next generation of entertainment to audiences of all ages. Fans can register for the experience through Fever, the premier entertainment discovery platform that inspires its vibrant local audiences to discover the best their city has to offer and supports the creation of unique and unforgettable events.

For cities, dates, and information on tickets, please visit www.armyofthedeadvr.com.

For press inquiries:
Melanie Kimmelman | Hunt & Gather
press@armyofthedead.com  
Kelly Kimball | Pure Imagination Studios
k2@kkimballpr.com